Before you decide what payment processor or payment gateway to use on your WordPress site, think back to the last brick and mortar store you swiped your credit card in. Now ask yourself what company made that box?
You have no idea. Right?
If it had an Apple Pay logo on it or some sort of other tap to pay service you might remember that.
In the world of online credit card processors, Stripe is the anonymous grey box that doesn't distract you from the store it is inside of brand. Paypal, Google Wallet, and Amazon Payments–they have a bigger agenda than 2.9% of the sale–like Apple, they are consumer-facing brands with a need to imprint that brand wherever they can.
Stripe isn't a consumer-facing brand, and they don't force their brand into your site's UI.
No wonder why it takes a lot of work to get a Paypal, Google Wallet or Amazon Payments payment flow to not break out of your branding, and not involve your users spending time on their sites. That makes sense since those offerings are part of an effort to build their brands.
There are a lot of reasons for this–their pricing is fair and clear, their API is great, etc. But the main reason to choose Stripe is that on your site, its interface is invisible. Memberful has a really great breakdown on all of the details of why they choose Stripe over Paypal including an excellent comparison of fees between the two services.
Choosing A Stripe Integration For WordPress
Of course their are tons of great ways to accept payments via Stripe on your WordPress. Here at CalderaWP we are quite fond of our Caldera Forms Stripe Add-on. We actually don't use it on this site, since we use Easy Digital Downloads for our eCommerce–and it's Stripe add-on, but we've used it on our own client sites extensively.
Choosing Between Shopping Cart & Single Page Shopping Experience
Shopping cart abandonment is a major concern for anyone running an eCommerce site. The whole idea of an online shopping cart is a little scary.
You get someone to decide to buy something, then you send them somewhere else on your site, and hope that they come back. That makes sense if you have a site full of products and your customers are likely to add more to the cart.
For sites with only a few products or even just one, the risk of shopping cart abandonment far outweighs the advantages of a traditional shopping cart–you're better of taking people directly to checkout when they click to purchase–or integrating the purchase form directly into the product page.
Creating A Single Page Shopping Experience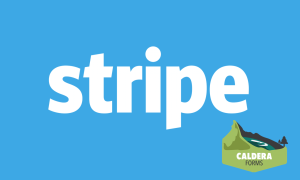 Taking customers directly from "Buy Now" to the purchase form, with no shopping cart in between, creates a smooth purchasing experience. It is ideal for sites that are less of market places and more focused on selling one particular product. It might have multiple options, but that can be handled by a drop-down select in the form.
The single page setup also means no eCommerce plugin to setup. You simply need a form builder and its Stripe processor and you are set. One big advantage of using a form builder plugin to make your purchase form is that if you use that form builder elsewhere on your site, making the appearance of the purchase form match the other forms should be effortless.
At CalderaWP we obviously like using Caldera Forms for this, but Gravity Forms is also a great option thanks to the Gravity Plus add-on that makes integrating Stripe payments into your Gravity Form seamless.
We Love Single Page Shopping So Much We're Having A Special Sale
For the next week only you can get a special discount on the Caldera Forms Stipe add-on. If you buy the add-on, you will get 30% of your whole order when you use the code STRIPE30 at check out.
Prefer to use Gravity Forms? That's cool. You can even get a special discount on Gravity Plus when you purchase it through this link.
Using A Shopping Cart
If you have a large number of products or plan to. There are a lot of options out there for a full eCommerce solution. Which one is right for you really depends on your needs.
On CalderaWP we chose Easy Digital Downloads, because it's focused on selling downloads and their software licensing system makes handling upgrades for licensed users a breeze.
We accept credit cards via Stripe thanks to the Easy Digital Downloads Stripe Payment Gateway add-on. I love that the credit card fields are built directly into the form. It's really seamless and I love it.
If you are selling physical products on your site, than WooCommerce might be a better choice for an eCommerce plugin. They have a Stripe integration as well, which I have used on client sites before and works flawlessly.
Other Important Components
No matter how you configure your checkout page, you definetly need an SSL certificate configured on your site so the credit card details can be transferred via the secure HTTPS. I strongly recommend you make your whole site run on HTTPS, but at the very least your admin area, login and checkout page should be secured. WPBegginer has a great article on implementing SSL/HTTPS on your WordPress site if you've never done that before.
Also, do not forget to add an option for your mailing list in your checkout form. Building your mailing list is always important, but getting your paying customers on it is super-important. Turning a one-time sale into an ongoing relationship is important for your brand and business in the long term, and getting your customers on your mailing list is one easy way to start that process.
We use the MailChimp add-on for Easy Digital Downloads to integrate mailing list sign ups into our checkout form. We also use our own MailChimp integration for adding mailing list sign up into our contact forms and LeadIn for pop-over optins.
So Many Great Tools
There are so many great tools out there for WordPress eCommerce, it can be overwhelming at times. Making the right decision on how to approach it on your site depends on your needs, the number of products you have and who you are selling to.
For me, I think the most important considerations are about ease of use for end-users, workflow and creating a consistent brand. If you can achieve those goals and create the right flow on your site that gets your visitors to press the "purchase" button, it's a win.