Proper search engine optimization (SEO) is an important part of creating a successful site that gets traffic. SEO has tons of factors, including creating the right URL structures. Having short, sensible, and human-readable permalinks on your WordPress site isn't just good for search engines, it helps humans make sense of the URLs and makes it more easy to remember a URL.
I want to share some tips on structuring your URLs.  The WordPress permalinks settings screen provides basic functionality for setting up your permalinks.  Here at CalderaWP, we make URL Builder, which gives you a visual editor for permalinks, with everything you need for structuring the URLs, for every post type, using tags, categories, taxonomies and more.
What Is A SEO-Friendly Permalink Structure?
There is no one correct answer to this question. But a good guideline is to keep it short, yet keyword rich.
By default The structure of WordPress URL is usually not particularly friendly for search engines, and neither is it for actual users. This is unfortunate, because your chances to rank higher in search engines depend on you having a SEO-friendly permalinks.
Designing a WordPress URL that is SEO-friendly can provide a real SEO benefit. You want to provide url structures that include your target keywords, are not too long, and do not use any characters that are not alpha-numeric.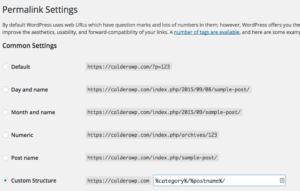 On the WordPress permalinks option page, you can create an SEO-friendly permalinks structure by choosing the "custom structure" option. One structure that is highly recommended is /%category%/%postname%/. By categorizing the pages according to their category, it allows the users to have a reference to what the content relates to.
This will also provide a WordPress URL that is rich in keywords, as it contains the category and the post name IE the post slug. Make sure in the WordPress post editor, you are modifying your post slugs to contain the keywords you are targetting

What About For Custom Post Types?
If your site has custom post types, or you need anything more complex in your permalink settings, then our URL builder plugin can save you hours of time. Even if you just find the default, permalink settings confusing — and who doesn't, having a more powerful visual editor is a huge win.
This is what the visual editor for permalinks looks like: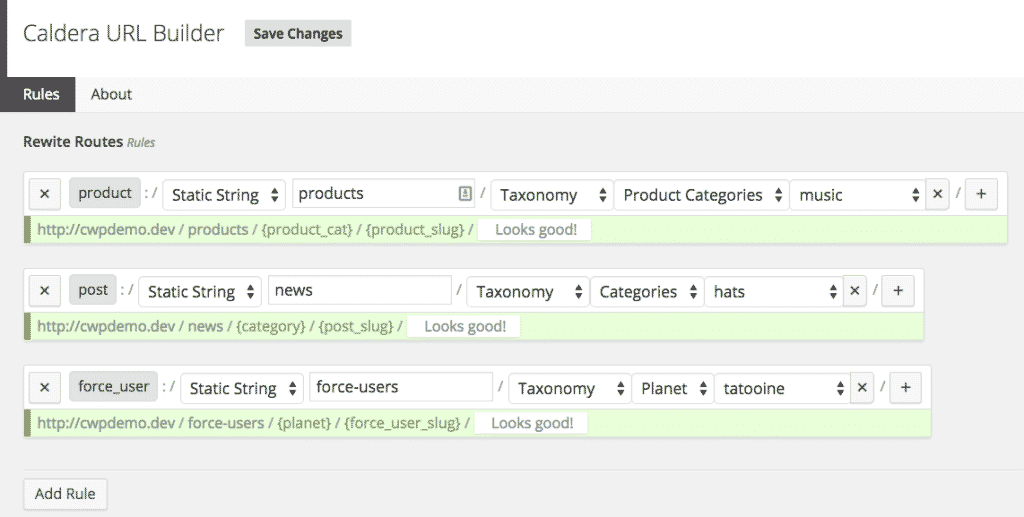 As you can see, it is powered by a simple, drop-down system for your taxonomies, that also lets you add URL segments that are static text. Creating separate URL structures for custom post types is simple.
You can learn more about how easy this is to do here. How ever you choose to accomplish this important part of the WordPress site creation process,  I hope these tips will have you creating those SEO-friendly permalinks that search engines crave in no time.