Today we have two add-on updates. Our Stripe processor now works with our conditional logic and our PayPal processor has been updated to adapt to changes in changes for the PayPal sandbox environment.
In Stripe for Caldera Forms 1.4.2 you can now use our regular conditional logic system for enabling or disabling payments via Stripe. This makes it much easier to create "PayPal or Credit Card" payment options. PayPal for Caldera Forms 1.1.5 is a minor update that affects how Sandbox mode works and fixes reporting of errors from failed payments.
Both updates are available to all licensed users. The updated files are now available in your account page, and via the automatic updater if your license to active on a site.
Caldera Forms 1.3.5: Coming Soon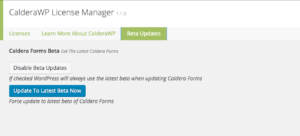 We are currently hard at work on Caldera Forms 1.3.5. You can test the latest beta by downloading it from http://calderaforms.com/cf-latest-beta. To make testing new releases easier, we have added an update Caldera Forms to beta button to our license manager plugin as well as an option to always update from the latest version.
We wish we were able to add this to Caldera Forms itself, but that would violate WordPress.org rules. Regardless, we are committed to providing a faster release schedule — roughly 2 weeks per release.
Caldera Forms 1.3.5 has a lot of bug fixes and two new features. The first new feature is an advanced file upload field. Our current file field uses native HTML file upload fields, which leave a lot to be desired. They are hard to style and their handling of multiple files is not great.
Our new Advanced File Field looks better, is easier to style and allows you to append additional files to a selection. This new field does not replace the old file fields, so no changes will be made to your forms unless you decide to do so.
Caldera Forms 1.3.5 also will introduce an optional usage tracking mode. We believe that business need to know how their products are being used in order to succeed. And we believe this goes both ways. Our new system, which requires you to optin to, will not only help us understand our customers, but help you understand yours.
When you choose to enable usage tracking, Calder Forms will be recording specific information about how Caldera Forms is used — no personal details — and record that data in your database. That date will then be periodically sent to our servers anonymously. As we develop tools to analyze and use this data we will make them available to you.
Before we release the new version, we will publish detailed information on what information is tracked when this voluntarily system is enabled and how we will protect your sensitive information.
Test Today!
WordPress core, plugin and theme updates can be a little nerve-wracking. But, remember this is open-source software developed openly. You can test the next version of WordPress as it is being developed. This is easy to do with the WordPress beta tester plugin. If you're not already using a staging site, which most managed WordPress hosts provide this, or a local development site to test updates, you really should.
So please, take a moment to test what we've done with Caldera Forms 1.3.5 and thanks again for being a Caldera Forms user.