OK, this one has been a long time in the making, but we are super-excited to say we have released Caldera Forms 1.4. This new release improves our already awesome form builder interface, makes our entry viewer more powerful and easier to use, improves our emails, and more. This is truly a release of industry.
If you have not tried Caldera Forms yet, now is the time to install it from WordPress.org and try it out. If you're already a user, that's awesome. Now is time to recommend it to your friends and social media followers.
Caldera Forms was already an awesome tool. We are excited to be in a place where we can refine an already kick-ass tool and look forward to what comes next.
In this post, I'd like to share some of the highlights of what is new. You can see the full changelog in the readme and also see all issues we closed in this milestone.
Update: We have released a minor update, version 1.4.1. This fixes a bug preventing forms with checkboxes from saving and 2 other minor issues.
What's New?
Emails: Emails!
We spent a lot of time improving emails in this release. We added a preview system, new hooks, new integrations and even made the default HTML messages look much nicer. Send a test email after you upgrade and enjoy how much nicer emails created using the summary magic tag look.
Integration With SendGrid
One of the most important new features in Caldera Forms 1.4 is our SendGrid integration. You can now easily send your emails through SendGrid, bypassing WordPress' email system altogether.
We strongly recommend that all users take advantage of this feature. By using SendGrid, you will get more reliable email sending as well as open rate and click rate stats. Not only that, you will also reduce server load and remove a common point of failure — PHP mailer.
If you send less than 12,000 emails a month, this will cost you nothing.
Email Previews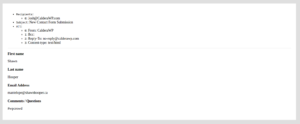 No more guess work on the settings in your email notification or auto-responder processor. Caldera Forms now has an email preview mode. You can see exactly what the content of your email will be when the reader receives it, what its subject will be and more.
A Refreshed Form Editor
The drag and drop layout editor is the heart of what makes working with Caldera Forms so awesome. The whole form editing experience just got even better. We've updated the labeling and rearranged the tabs to make it more intuitive.
This new version also adds an often-requested "Duplicate Field" button. One click of this button and you have a copy of your field. Another new feature is the ability to populate a select fields options using a pre-set list of options.
In addition, you can now access the Caldera Forms shortcode from the settings tab.
A Better, More Responsive Entry Viewer
Caldera Forms provides entry tracking in the WordPress database by default. There are two ways to view entries. The first way is in the main Caldera Forms admin screen. This viewer has been completely revamped to be more responsive and more accessible. In previous versions, it was not always useful on smaller screens. Those issues are now resolved.
Both the main page, and optional sub-menu entry viewers have been revamped for increased usability. In addition, we have added ARIA markup to make this system easier to use for those using assistive devices.
Shinier Form Creation
The w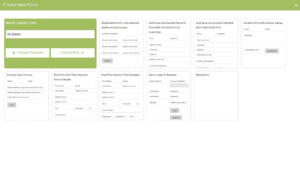 hole experience of creating new forms in Caldera Forms has been overhauled. We now give you a visual preview of what each form template looks like.
We understand that our form editor is very different form other form builders. This new form modal strongly encourages using templates, which speed up form creation and help new users learn our system faster. Combined with our revised form editor, we think Caldera Forms is a great plugin to recommend to new users for all of their form building needs.
Towards An Accessible-By-Default Form Builder
Before Caldera Forms 1.4, we did not provide any ARIA tags to help users employing screen readers. This is a major oversight that we are working hard to correct. Right now, we are working very hard to not introduce new accessibility issues and work rapidly towards delivering a form builder that for a site admin and site visitor alike is as accessible as WordPress.
We are a very small team, so while our timeframe may be longer, accessibility and translation-friendliness are high priorities for us. We will not solve these problems with add-ons, but we will make Caldera Forms accessible by default, as all web sites and tools for building them should be.
Entries Database Abstraction
This is a nerd-level feature that I promise to explain in detail in its own blog post aimed at developers soon. That said, we have a fancy new database abstraction that will make it easier for developers to retrieve, edit and create entries.
Also, this new "under the hood" feature, will enable us to build our front-end viewer add-on, add a REST API for entries and make the entry tracking system more stable moving forward. This is the kind of "developer" feature that isn't very exciting sounding, until you think about what we can do with it. Look for a lot of fun new stuff using this new system soon 🙂
What's Next?
We've got some exciting new add-ons coming soon. These include PDF and conditional recipients add-ons. We're also planning on adding some new field types, improving the CSV export process and introducing a form translation system.
As always, we're also cooking up some new ideas in the lab. So stay tuned. We may or may not be getting ready to approaching a public beta of a secret project or two. I can't say, it's too secret. 🙂
Also, both Christie and I will be presenting at WordCamp Pittsburgh. Tickets go on sale for that event soon. Make sure to come hang out with us in Pittsburgh, I'll buy you some of the best french fries you've ever had.
Get Caldera Forms Now!
You can update to Caldera Forms 1.4 through WordPress now. If you love Caldera Forms, want to take your forms farther or just want to support our awesome work to make the best free form builder out there, please consider buying one of our cost-saving Caldera Forms bundles.