It's Tuesday, and I've spent 50% of the last 10 days at WordCamps: WordCamp NYC and WordCamp Boston. I checked off many firsts: first WordCamp talk, first WordCamp Boston, and first pleasant Chinatown bus experience. One's first WordCamp talk is probably a slightly nervous experience, but make one's first WordCamp talk also located at the United Nations Headquarters in New York City, and that's enough to give a girl some heartburn.
However, I'm extremely happy for the experience of the last week and a half. I met wonderful people, had fun giving a talk and answering questions, and dove deeper into the WordPress community.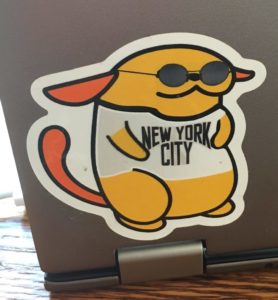 I spoke about A/B Testing for WordPress at WordCamp NYC (the slides to my talk are here). My favorite part of this experience was the wide interest that buzzed around WordCamp NYC after my talk – many of you approached me with additional A/B testing questions and comments. As I said in my talk, the best advice for A/B testing I can give is just do it. Set up a test, any test, and your website is already collecting information for you about your users that you didn't previously have.
I also feel compelled to give a special shout-out in my roundup to Winstina Hughes, the volunteer for speaker organization. I talked with her briefly at the speaker event and learned about her conscious and dedicated efforts to have a both gender and ethnically diverse group of speakers at WordCamp NYC. I think such efforts should always be commended, and especially in our industry. Way to go, Winstina!
WordCamp Boston was a semi-last minute decision for me, as I learned at WordCamp NYC that many of the attendees were heading to Boston the following weekend. Friday night bookings out of Manhattan meant I managed to sneak a seat on a crowded Chinatown bus for Saturday morning. Last time I rode one of those, it was Christmas Eve Eve (first mistake!) and it was pouring rain. I swore never again. However, I mustered up the courage to ride – and it was perfectly nice. The most pleasant things are pleasant surprises.
While WordCamp NYC boasted a full contributor day and two full days of talks for a User track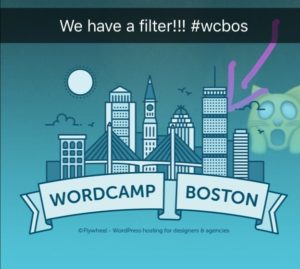 and a Developer track, WordCamp Boston's organizers seemed to take more of a "a little for everyone" approach. We had half a day of Contributor Day, and throughout the days, we had tracks for users, developers, designers, entrepreneurs, and applications of WordPress in higher education. I think both approaches have their merits, and I enjoyed being a part of such a variety of ideas and structures. I hope that other folks who attended both camps felt the same way about the diversity we got to experience.  
Favorite Talks
At WordCamp NYC, my favorite talk was certainly Intro To Plugin Development from Bruce Chamoff. Bruce's talk was a high-level introduction to building plugins for WordPress, actions and hooks, and complete with a short demo on how to change Hello Dolly to a more fun song of your choosing – quite the funny and memorable demo. Naturally, as part of a plugin company, I found his effort to educate the community on plugins both commendable and necessary.
At WordCamp Boston, I surprised myself by truly loving Ashley Kolodziej's Learn To Love Documentation talk (slides are here). Before her talk, I talked with a couple of interesting Caldera Forms users, and I heard gripes about documentation more times than I would like to tell you. This inspired me to stop by Ashley's talk. Her viewpoint on the process, location and significance of documentation was both refreshing and inspiring. I'm looking forward to applying her thoughts to improving Caldera Labs documentation across all products to better serve you.
Next Up
Overall, these past ten days were an incredibly positive experience for me. I was chatting with a non-WordPress friend yesterday after all was said and done, and he asked: "Why WordPress?" to which I answered, "I've found through going to events that I genuinely enjoy the people of this community and what we believe we are working towards."
Next up on my calendar is WordCamp Pittsburgh in September, where I'll be delivering the A/B Testing for WordPress talk again. See you there.