The extent of my professional experience working in IT for higher education was my fairly non-industrious stint working as a computer lab aide at The New School. But, I was very excited to be a part of the inaugural WPCampus, a first of its kind conference for those who use WordPress in higher education.
Not only was it the first conference aimed at using WordPress to power higher-ed websites, but it was the first WordPress conference focused on a specific application of WordPress. I took part in this event because I wanted it to be a success and to see more vertical-specific WordPress conferences. The speaker lineup was pretty beefy, lots to be learned for any WordPress user, it was only a few hours south and a dozen of my WPCrowd mates were coming.
And I'm so glad I made the obvious choice to attend. I had a great time, gave a fun talk, made new friends and enjoyed some quality WordPress education and several fine local eating establishments.
If you'd like to see the slides and links form my talk, be sure to check out this post on my blog.
Interesting Talks From WPCampus
I'll be honest, I mainly attend WordCamps and other WordPress conferences for the "hallway track." The event was held at University of South Florida's Manatee campus, which was really quite nice. The venue provided nice indoor and outdoor seating that I took plenty advantage of for talking with friends, networking and what not.
I did attend a few talks, and would like to tell you about some highlights.
Roy Sivan: JavaScript Applications Powered by WordPress and AngularJS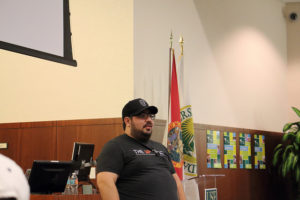 In this workshop, Roy Sivan, showed us how to make real-time applications using WordPress, AngularJS and Firebase. He walked us through building a notifications bar that auto-updates, in real time for all users.
Be sure to check out the example code for the workshop. It provides a useful introduction to Angular and Firebase. I'd love to see more of this type of approach used to make WordPress sites into less of static documents and into real-time systems for communicating to a community.
Steve Persch: WordPress at Scale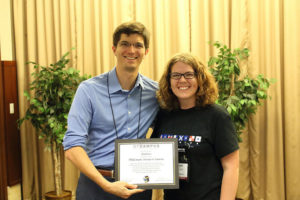 Steve is an engineer at Pantheon that I met this weekend. He and his Pantheon colleague Dwyane were both super-nice people. Steve gave a great talk on scaling WordPress and Dwayne bought a jar of pickles to share at a bar a few of us ended up at after the second night's after party.
Steve's talk was a great overview of the challenges to building a high-performance WordPress site and ensuring it scaled. He gave really good insight on each of the problems and what solutions to use for each. He also introduced us to a valuable resource that I did not know about — the site WordPress at scale.
Mike Corkum Deployment and Workflow Tips and Tricks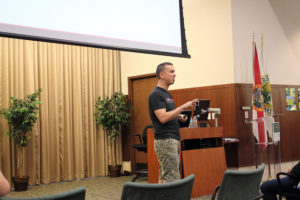 Mike Corkum powered through a lightning talk on deployment strategies for WordPress with grace and power. This short talk was crammed full of great insights on improving the process of testing, deploying and managing multiple environments in an efficient manner.
The talk showed, with some excellent code examples of how to avoid major pain points in moving between environments, chronicled how his team reduced the time for upgrades of all of their university's sites from 5-7 days to several minutes. Be sure to check out his slides to learn more about how to make your testing and deployments more industrious.
Awesome Start!
For a first time conference, WPCampus was a rousing success. In fact, i go to a lot of WordCamps and I have to say this was one of the better WordPress conferences.
So, I'm not just looking forward to WPCampus 2017, but I am looking forward to more niche WordPress conferences like this for other uses of WordPress. WordPress is huge and no one conference can fit everyone's needs. But, at this scale organizing a conference for a specific section of the users is clearly possible. WPCampus not only prove the possibility, it knocked it out of the park.