Did we cross paths at WordCamp Ann Arbor 2017? Hi!
Anyone who knows me will tell you that I like to talk, and that I'm generally pretty helpful. If you want access to resources outside of these, just let me know via the Caldera Forms contact form.
Contact Forms Of Great Victory
Fill out this form to download my slides.
WordPress Hosting
Need the panelist information slide? See below. Questions? Want a speaker's contact information? Want to know what hosts I use & recommend to my customers? Write us.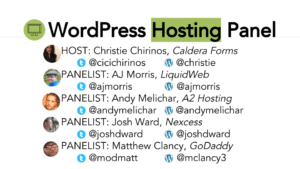 The Future Of WordPress
Want to talk more? Tweet at me @cicichirinos.