I've been WordPressing for awhile now. I found a post I wrote from 2014 on how to do something with Pods and yah, I felt WordPress old. I'm grateful for everything I've learned from this community and I wish I could tell myself back then what tools would make my life easier when I needed to make a WordPress site.
Last week, we shared a list of Black Friday deals from our friends and partners. But this week, I wanted to put together a list of the products I would buy for anyone who told me they were just getting their start in WordPress. Christie had the idea of calling it Caldera's Holiday Gift Giving Guide.
Here is what I would do today if I were getting started with WordPress site development and wanted to make sure I had everything I needed to make great sites quickly and ensure my clients were happy long-term.
For Those Starting A Business With A WordPress Website
First, I'd want to have a reliable hosting. I started WordPressing on a $4 shared host that was not very good and did not have staging sites or backups. Then I met the fine folks at SiteGround at a WordCamp and saw how much they cared about our industry, and how affordable and powerful their hosting was. So I switched to SiteGround. Today they have free SSL, PHP7, and staging sites, all the things that you definitely want in a WordPress host.
I'm pretty good at writing code, but I am far from a designer, so page builders are something I love. We use Elementor on CalderaForms.com. We used to use Elementor for basic page building, but when we saw the theme builder in Elementor Pro, I upgraded right away. Now we can use Elementor for custom post types, archives, even headers, and footers. If I had this years years ago, I would have saved hours!
For Those Building WordPress Websites Professionally
When I first started working on my WordPress site, I did everything on the live site. I'd FTP up a file change, hit refresh in my browser and hope for the best. If it broke my site, well, I guess I was lucky no one was reading it anyway. Luckily I learned about DesktopServer by ServerPress. With DesktopServer you can work on a copy of your site that runs on your local computer and then push the changes up to the live site when they were actually working the way I wanted.
Not to turn this into "old man yelling get off my yard at the kids with their new gizmos," but one of the problems that used to be a pain to deal with was merging database changes from local to live. The good folks at ServerPress also build WPSiteSync that helps you move your database changes from local to live or between sites.
For The Employee Responsible For The Company Website
Running Caldera Forms for the past 3 years has taught us that many companies have one very busy employee who, on top of their other responsibilities, has to take care of the website. Much like some people buy office gadgets for their favorite office star, I would consider buying subscriptions to the following two products.
Delivering a great looking WordPress site to your boss is great, but what happens when things need to be updated? A bad plugin or theme update can turn a happy client into an unhappy client real fast. Managing backups, updates and small fixes can be time-consuming, and that's where WP Buffs steps in. They handle all of that for you. If you're an agency, you can use their white label plan to build your own recurring revenue stream.
Speaking of monthly recurring revenue, our own Christie has a podcast on building your monthly recurring revenue with WP Buffs' Joe Howard. There is even a course you can buy to help you learn to grow your WordPress business' MRR.
I never was serious about building up my own site as a regular tutorial site, but if I did, monetizing it with a donation form would be a good idea. Whether you're looking for a simple tip jar or building a complete donation site, GiveWP is the best way to accept donations online. If you're a WordPress developer, non-profits, religious organizations and NGOs are a great niche to focus on and GiveWP is going to help a lot there.
Caldera Forms Is A Swiss Army Knife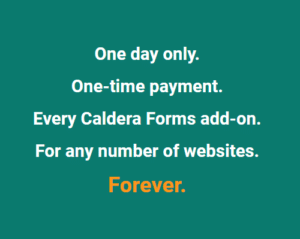 Tomorrow, on Black Friday, we're bringing back the Caldera Forms Unlimited license for just one day, for only the first 100 customers. A lifetime subscription to Caldera Forms can come in handy for anyone interested in WordPress – whether you're an entrepreneur using WordPress to power your big idea, a web development professional using WordPress to build sites for others, or someone who uses WordPress at your day job. One subscription can allow limitless forms for registrations, payments, list building and more. We've seen small web applications built with WordPress and Caldera Forms – what will you do?