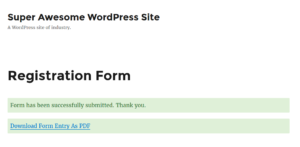 Caldera Forms PDF is a service that converts Caldera Forms entries to PDFs. This document explains how to setup PDF generation using this service and the Caldera Forms PDF add-on.
Getting Started
Caldera Forms PDF uses a cloud service to generate PDFs from your Caldera Forms submissions. The email will be generated from the email set in the email notifications tab. Please make sure to enable email notifications and configure that message for all forms you wish to generate Caldera Forms PDFs for.
Setting Up The Plugin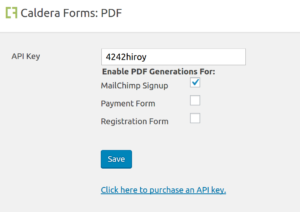 Be sure you meet the requirements listed below and have Caldera Forms, and the Caldera Forms PDFs client plugin. When the Caldera Forms PDF client plugin is enabled and you have met the requirements, you will see a "Caldera Forms PDF" submenu in the Caldera Forms menu.
In the Caldera Forms PDF settings, you will see a setting called "API Key" in this setting, you should enter your API key.
Below the field for API key is a series of check boxes under the heading "Enable PDF Generate For." This setting will list all of your forms. Check to enable PDF generation for each form.
When you are done, click the "Save" button.
Requirements
In order to use Caldera Forms PDF, you need the following things:
A Caldera Forms PDF API Key
Caldera Forms 1.4.1 or later
WordPress 4.5 or later
PHP 5.4 or later

This is very important. The Caldera Forms support menu has a tab called "Debug Info" that will tell you your PHP version.
If you are using an 5.3 or earlier Caldera Forms PDF will not work.
If you are using PHP 5.5 or earlier, you are using a PHP version that is out of date and may not be secure.

To have pretty permalinks activated. If you are using ?p= or ?page_id= style links, this add-on will not work.
The Caldera Forms PDF client plugin.

Coming to WordPress.org soon
Using The Plugin
Generating PDFs
When a form is submitted, if the form has the email notification and PDF generation enabled, a link for downloading a PDF will be added to the success message after the form is submitted. Clicking this link will download the PDF.
FAQ
Can I Change The Name of The PDF?
Yes. By default, the PDF will have the same name as the form. You can use the "cf_pdf_pdf_name"  filter to change the name of the PDF file that is generated:
Here is another example that uses a value from the submission as the name:
Can I change the link that is outputted for PDF generation?
Yes. You can use the "cf_pdf_link_message" filter for this.
Keep in mind that the default message can be translated using standard WordPress localization.
Can I attach the PDF to the email that is sent?
Not yet, but that will be a feature soon.
How Does Billing Work?
This service is free during beta testing. When we go live, we will sell a certain number of PDFs generated per month. A download of a PDF will count against that total when the PDF is generated, which happens when the download PDF is clicked the first time. This means that if no one clicks the download PDF link, no PDF will be generated and will not count against your quota.
This also means that downloading the same PDF 2 times or 7 times will only count as one PDF generate. We reserve the right to cancel your API access at anytime for excessive usage.
Why is the service hosted at Caldera.space?
Josh thought it was funny to put our cloud services in space.