The Postmatic add-on needs to be installed and activated to see the features mentioned in this documentation. You'll also need the Postmatic plugin for this processor to work.
The Postmatic add-on adds the option to signup anyone submitting the form to your Postmatic account.
Adding the Postmatic Signup Processor
In the form you want to enable Postmatic signups in, click the Processors tab and Add Processor:

Then select the Postmatic processor: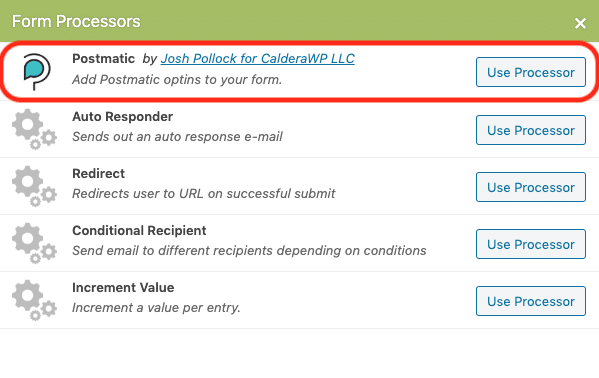 Configuring the Postmatic Processor
Postmatic needs three pieces of information about the person signing up using your form:
Email Address
First Name
Last Name
There are settings for each of these in the Postmatic processor. Magic Tags can be used (just click on the setting) to map the field on your form to the matching setting within the processor.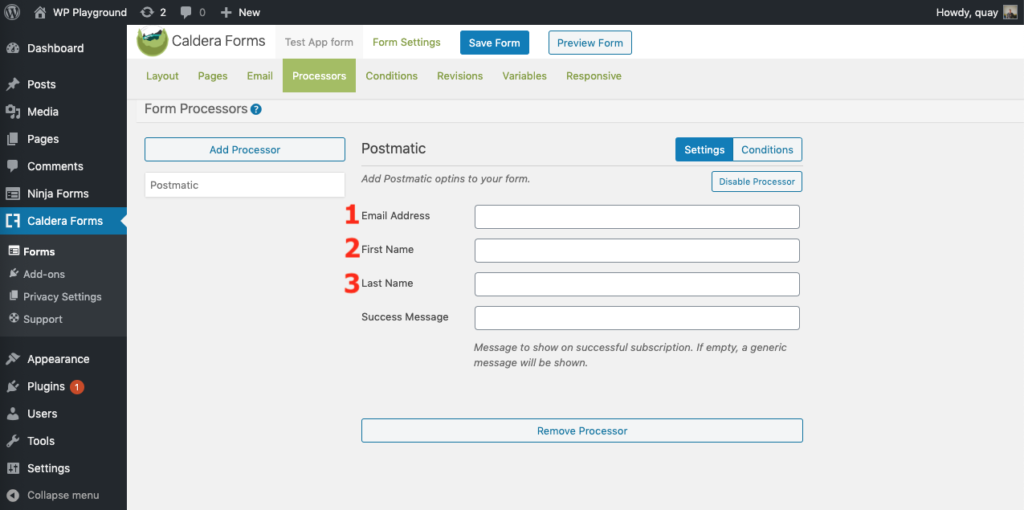 The Success Message setting can be used to display a custom Postmatic signup message after the form has been submitted.
Create an Opt-in Option on the Form
Every user filling out the form may not want to be signed up to your Postmatic account, buy may still want to complete the form.
Place a Checkbox field on the signup form and return to the Postmatic processor.
Click on the Conditions tab of the processor.
Set the Condition to Use
Select the Checkbox field as the "if" setting "is" "checked"