You've subscribed to Caldera Forms Pro, now what? Six easy steps to better WordPress forms:
These instructions apply to Caldera Forms 1.5.8 or later. 
Step 1: Install Caldera Forms
If you haven't already, download it from your account, WordPress.org, or by searching for "Caldera Forms" in your WordPress website's Add New Plugin screen.
Step 2: Find Your API Keys
Your API keys can be found in your Caldera Forms account here. They will look like this: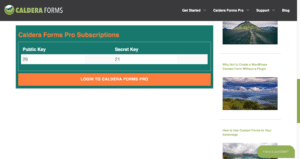 Step 3: Activate Pro
To activate Caldera Forms Pro with your API keys, go back to your WordPress website's dashboard. Under the "Caldera Forms" menu item on the left-hand sidebar, find "Caldera Forms Pro."

This screen will take you to a page where you can put in your API keys to start using your new subscription.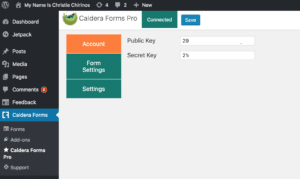 Step 4: Log In To The App
Using the same credentials you use on your customer account at CalderaForms.com, log in to the Caldera Forms Pro app. You will be welcomed by Caldera Forms Pro's modern interface.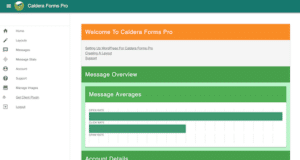 Step 5: Set Up Your First Layout
Layouts are one of the essential parts of Caldera Forms Pro that you have to set up. In the app, create at least one layout that tells your Caldera Forms plugins what the email coming in and out of them should look like.
Then, hook up your new layout to a Caldera Form in Step 2's dialog screen.
Step 6: Quickly Review Your Default Settings
Most Caldera Forms Pro improvements – more reliable emails, powerful antispam, and error logging for quick and easy support – are already included with your Caldera Forms Pro activation. You should still take a look at the default settings and make sure features you might want – such as custom default from emails and PDF generation – are set to what you want them to be.
Sit back and relax…
…better WordPress forms are here.