​If you purchase the Caldera Forms Pro Starter, Individual or Advanced plan, you can upgrade to a higher plan at any time while your license is active and you will only pay the difference in price between the plans.
How To Upgrade Your Caldera Forms Pro Plan
👀 Important Notes
Please keep in mind that this upgrade does not change your expiration date. If you started your Caldera Forms Pro subscription 2 months ago, and you upgrade today, your renewal date for your new plan, will be in 10 months.
🌋 Step By Step Guide To Moving To A Higher Caldera Forms Pro Plan
​To do the upgrade, login to your account at https://calderaforms.com/account – Once logged in, click on the Complete Purchase History tab.

BTW Your account page has your Caldera Forms Pro API keys and download files for add-ons.
In this list, find the payment for Caldera Forms Pro that you wish to upgrade and click View Licenses:

On the  next page, select the View Upgrades option: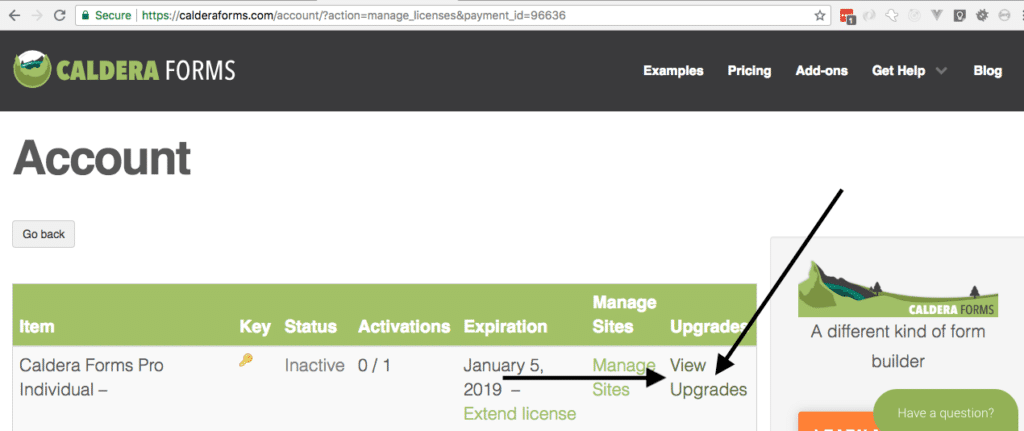 This will take you to the page where you can see your upgrade options. You can click the Upgrade License option to add the upgrade to the cart.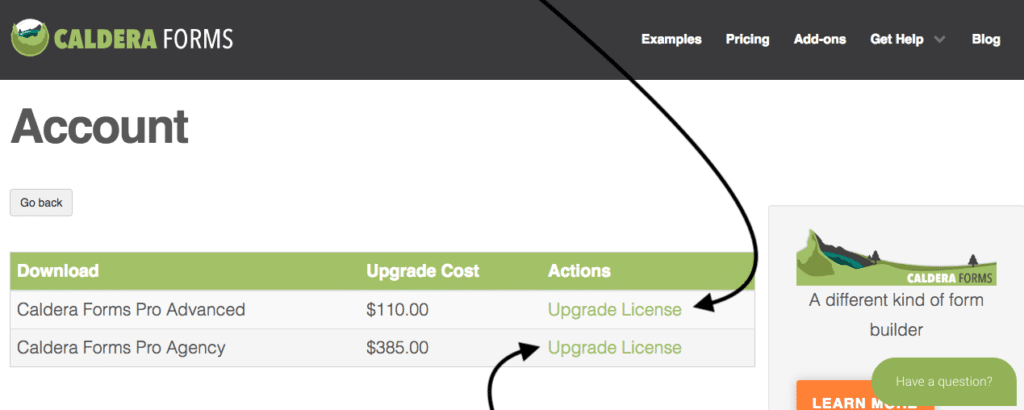 At this point, you should be taken to checkout, where you can complete your purchase.
🙏 Thank You!
It's super cool that you're using Caldera Forms and are ready to support our work at a higher level. We're constantly working to improve our free plugin and Caldera Forms Pro as well as give back to the WordPress community that supports us. You make that possible. You are awesome.