Caldera Forms Conversion Tool
The Caldera Forms Conversion Tool is a free plugin that will convert Caldera Forms forms and entries into Ninja Forms forms and submissions.
When the Conversion Tool is run, your Caldera Forms forms and entries will remain untouched in Caldera Forms, so this is a zero risk process. The Conversion Tool will simply generate a new Ninja Forms form and submissions from what already exists in Caldera Forms.
Add-on processors (e.g. Stripe, Users, etc) will not currently convert yet, but will soon. See here for more information.
Here's how to convert!
First, make sure you have the following installed and activated:
Caldera Forms
Caldera Forms Conversion Tool
Ninja Forms v3.6 (or later)
Please note: A Ninja Forms membership is required to fully convert forms using conditional logic, 2+ pages, and/or upload fields. Please contact us and we'll get you set up at low or no cost for the first year!
Now open Caldera Forms, select any form, and see the Convert to Ninja Forms button: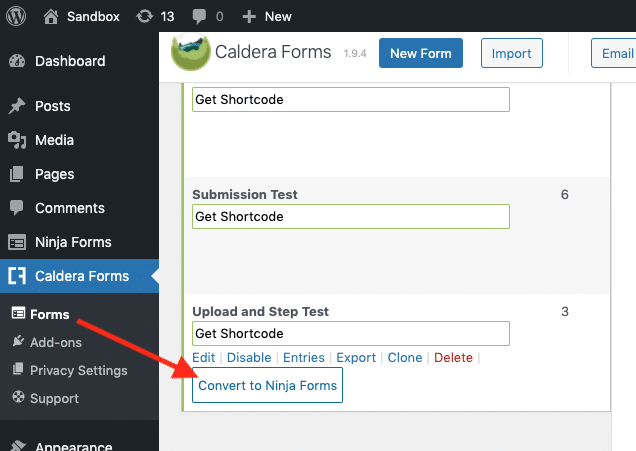 Each form has this option. Click Convert to Ninja Forms, then select Convert to Ninja Forms again to run the conversion. You can alternatively choose to export it as a Ninja Forms .nff file with the Download as .nff File option.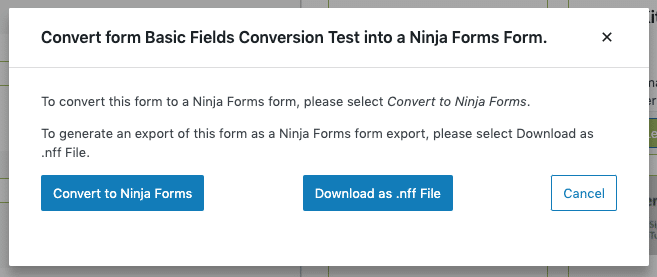 To view the converted form, select "Go to Ninja Forms Edit Page" or navigate to Ninja Forms > Dashboard to see the newly converted form!
To view converted entries, navigate to Ninja Forms > Submissions, and select the newly converted form. You won't be able to edit converted submissions at this time, but in other respects they'll behave exactly as you're accustomed to.