Easily create a fully customizable PDF copy of any form submission. Attach to email, export, & more!
Do you need a more professional way to share WordPress form submissions with customers and colleagues? Most WordPress form builders let you email a copy of a submission, or export it as a csv to share. While convenient, these options lack the polish most organizations need in their communications.
Company logos or other HTML elements often display improperly or not at all in email.
CSV files can be difficult to read and even open.
Neither option works well for record keeping, invoices, contracts, or dozens of other common ways you need to use your submitted data.
Sending form submissions as a PDF is a perfect alternative!
Fully customize the PDF generated from any form submission
Take full control of the PDF file generated from each new form submission. Add custom headers with company information and your business logo.
Decide exactly how the submitted form data displays within the PDF file with full support for Caldera Forms' Magic Tags.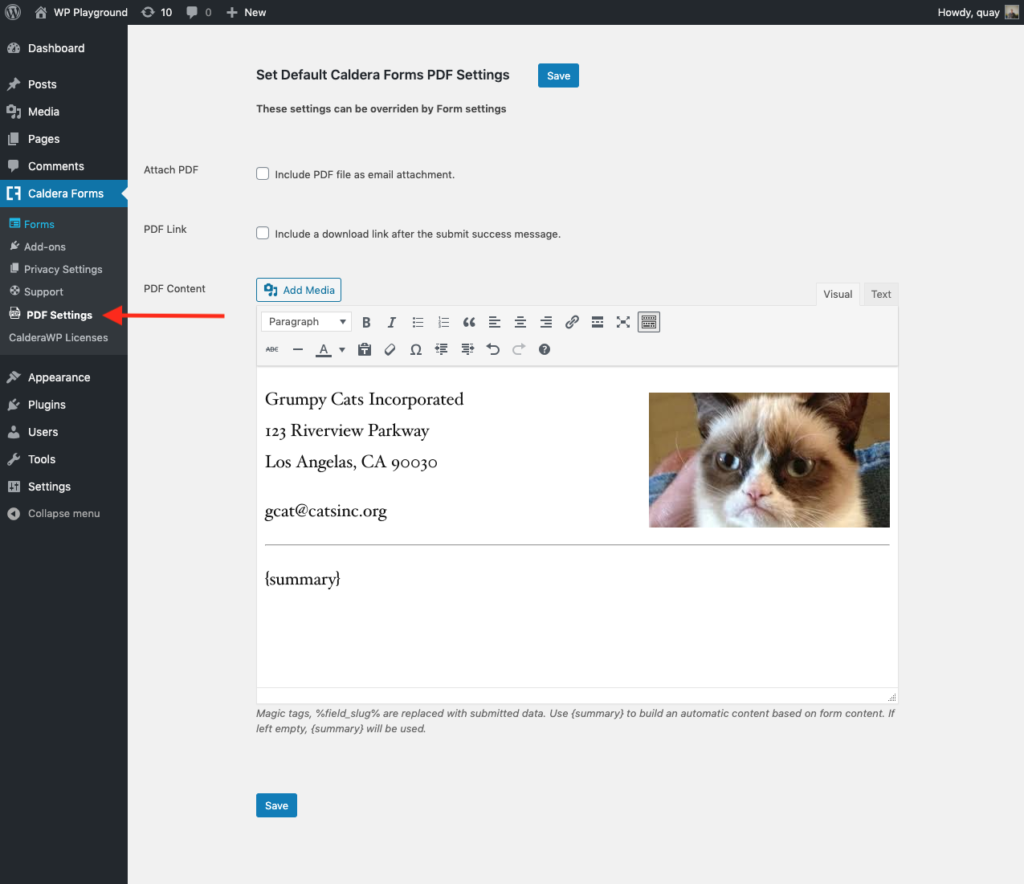 Choose a look for all PDF file generated site-wide, specify a custom format for certain forms only, or do both! You have the flexibility to create both global PDF settings and individual, per-form overrides.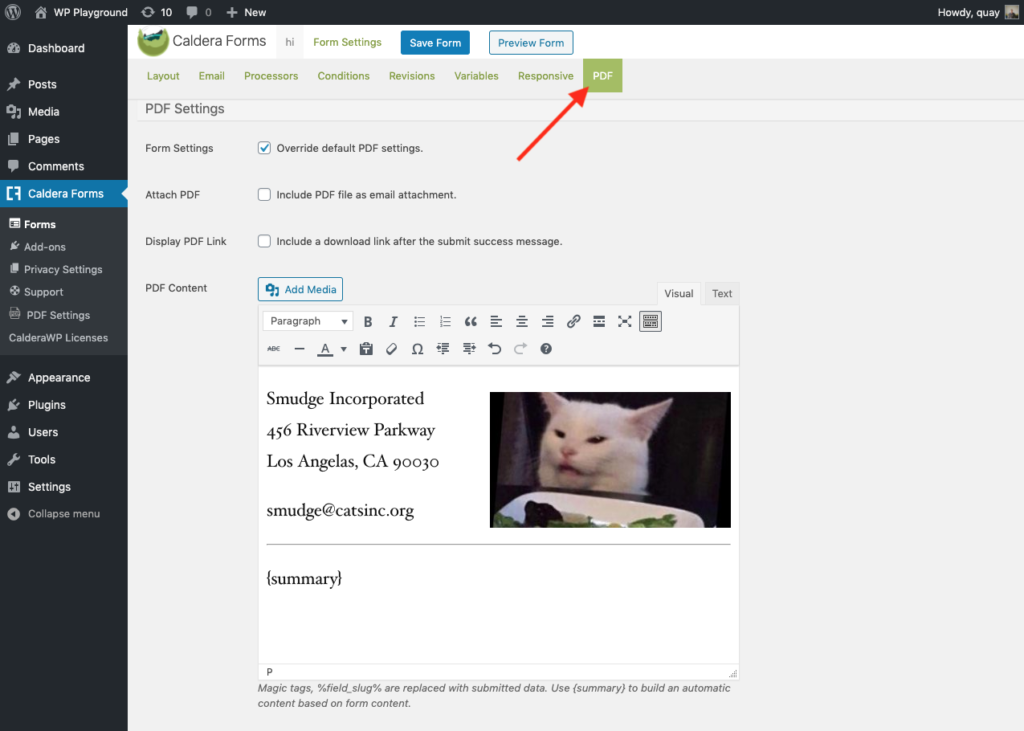 Send a PDF copy of each new form submission as an email attachment
Need to send a PDF copy of the form submission out with each new email the form sends? Once you've chosen how your PDF will look, you just need to flip a switch to make it happen.
PDF Form Submissions for Caldera Forms adds a new PDF tab in each form. Just check a box in this tab to have a PDF copy of each new submission sent out with the form email. It's that simple.
Download any form submission as a PDF file with a single click
Any of your Caldera Forms entries/submissions can be exported easily as a PDF file. PDF Form Submissions adds a PDF button inline with each entry. Click. Export. Share.

Offer your users a PDF download option with every new submission
Want your users to be able to grab a copy of the form they just submitted before they ever leave the page? Email can be tricky. Make sure your users always get a copy. Enable a single setting in the new PDF tab on any form, and the form's success message will display a download link for that submission!
Stop struggling with customizing stubborn email and clunky document sharing now!
There's no reason to continue fighting with your form submission emails. Stop struggling to get email HTML to behave, only not to display half the time. Give your outgoing communications and internal record keeping the professional quality that reflects how your business is run. Upgrade to fully customizable, professional quality PDF copies of every form submission today!