Accept credit card payments and eChecks using Authorize.net and Caldera Forms.
One time payments, create recurring payment plans, with trial periods. Also supports eChecks!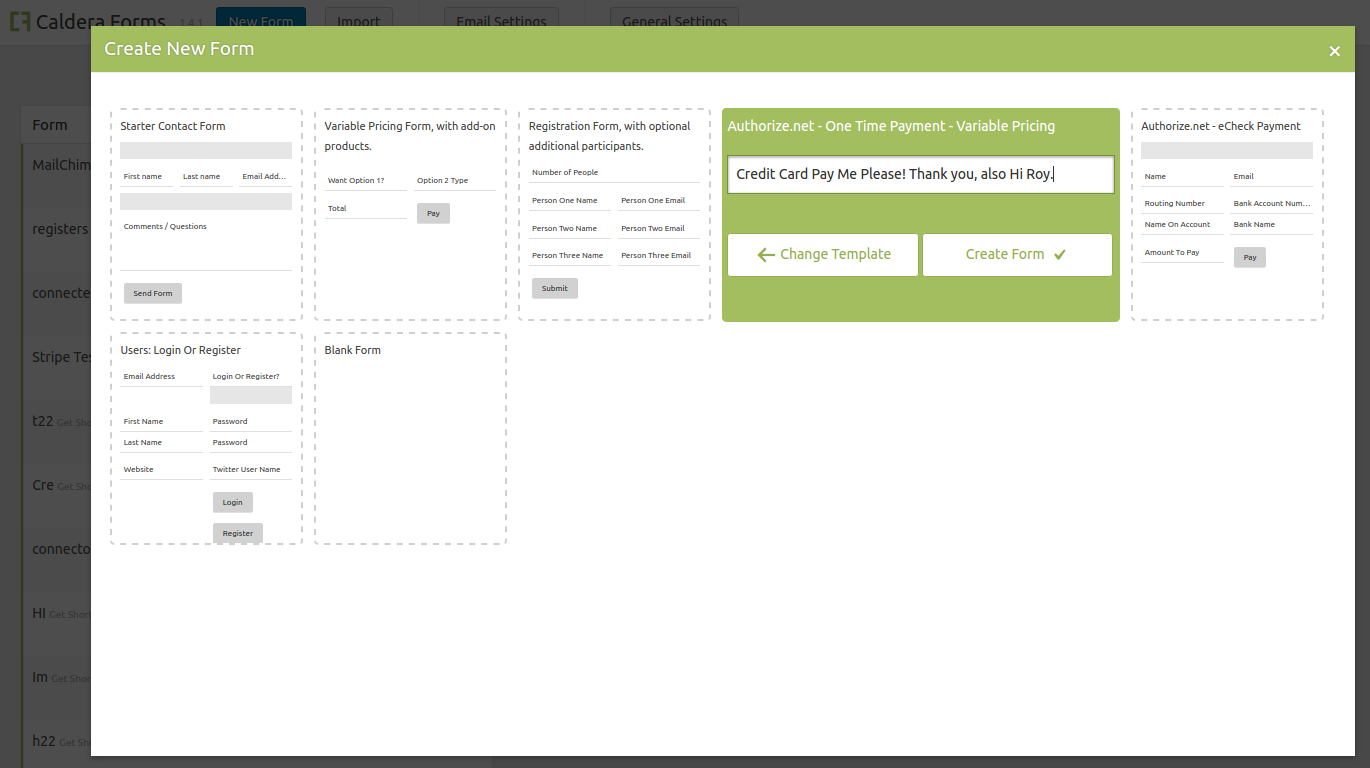 Authorize.net is a popular choice for online payment processing as they accept all major credit and debit Cards – Visa, MasterCard, American Express, Discover, Diner's Club and JCB. In addition Authorize.net accept international transactions from customers worldwide, and offers high fraud prevent tools.
Accept credit card payments using Authorize.net and Caldera Forms. This payment processor can be integrated into any Caldera Form turning your WordPress form into a single page checkout perfect for events, webinars, eBooks, and other simple eCommerce applications.
The end-user experience for the Authorize.net payment processor is totally seamless and unbranded. There are no redirects to a third-party site, and your users will enter their data directly into Caldera Forms fields.
Because this processor can take full advantage of Caldera Form's powerful conditional logic, it is an excellent tool for WordPress registration forms. When coupled with the users add-on, you can combine your registration form, login form and payment form all into one.
Learn how to set up this payment processor here.
Four Ways To Accept Payments
One time credit Card Payments
One time eCheck payments
Recurring payments via Credit Cards
Recurring payments via eCheck
Flexible Payment Plans
Create exactly the right payment plan for your needs, right in the Caldera Forms admin. Select the payment plan length, how often it's charged, how many times the charge occurs and more, right in Caldera Forms. Supports free or paid trials and any subscription length you need.
Caldera Forms Authorize.net is the most flexible and easiest to customize system for creating payment plans in WordPress.
Important: This payment processor will only work if your site is using HTTPS. Please configure a valid SSL certificate before attempting to use it on a live site. You can use the processor in "sandbox" mode via the insecure HTTP protocol, but you will not be able to receive actual payments.