Create sequences of forms with conditional logic.
Split your forms into smaller pieces, with total control over what comes next.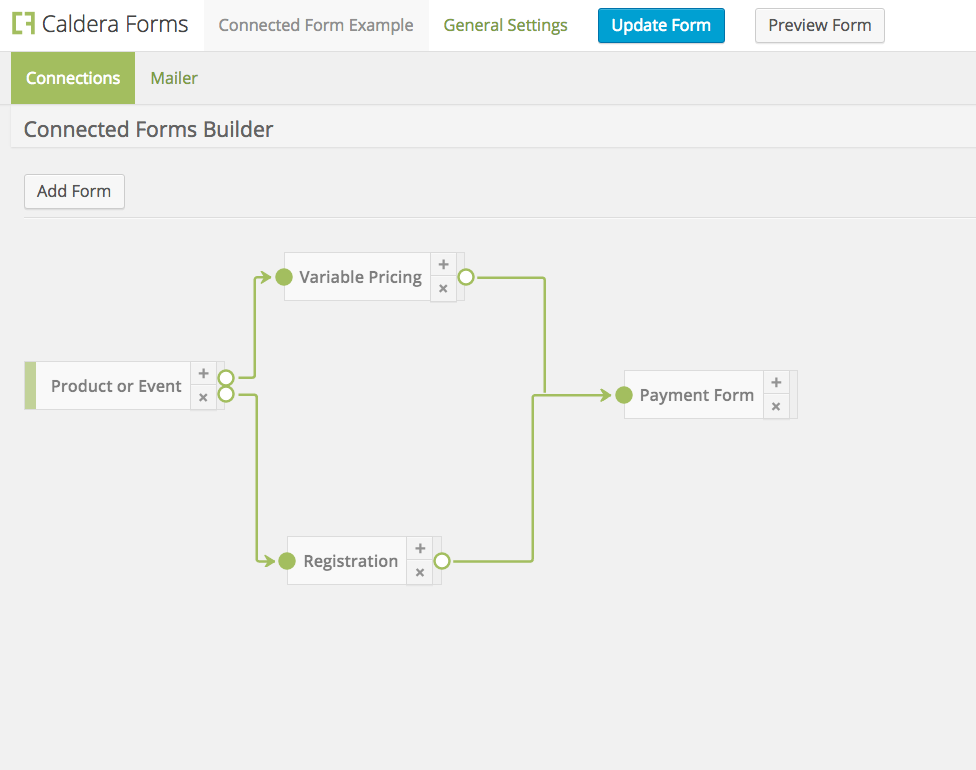 Offering a form to fill out online can be simple enough. But, what if you have multiple forms that need to be filled out — and each form that appears relies on answers given in the form before?
Enter Connected Caldera Forms.
While Caldera Forms already has multi-page forms available, Connected Caldera Forms represents an even more powerful way to get multiple forms filled out at one time.
Connected Caldera Forms links multiple forms into a sequence with conditional steps, so you can use it for complex processes like creating a custom WordPress registration, selling products, registering guests for events, creating variable sales paths and more. It also updates the entry after each step, so you can take advantage of partially saved submissions and track down leads if someone is not able to fill out the entirety of the form or forms.
By using Connected Caldera Forms, you can take control of a process that might feel overwhelming and manage it with a simple user interface that is intuitive and easy to use.
Learn How To Use Connected Caldera Forms
Read the getting started guide here.
Caldera Forms includes multi-page forms as a default option, but Connected Caldera Forms allows you to do what one form alone can't do. It links multiple forms into a sequence of forms, with conditional steps. Use this add-on combine multiple forms into one, create a custom WordPress registration or login form, sell products or event registrations while gathering all the information you need, create complex and variable sales paths, surveys, quizzes and more.
Take control of a complex process with the simple user interface you've come to expect from Caldera Forms.
This powerful solution for creating forms with multiple steps allows you to keep each step short, and quick to load. Since the entry is updated after each step, you will have the data from a partial saved submission, allowing you to follow up and prevents loosing potential leads that are unable to complete a long form. This includes partial form submissions for Caldera Forms.
Learn how to connect multiple forms, and use conditional logic to control the flow of the process, based on user input here.