What did we update today? We updated all the things!
Ok, well, not all the things, but we did put out bug fix releases for Caldera Forms, Caldera Forms Users and Caldera Forms Geo-location add-ons.
Caldera Forms 1.3.3 is available today via WordPress.org. It fixes several bugs in including a bug that prevented field validation errors from showing and one that caused field validation to happen when going backwards in a multi-page form.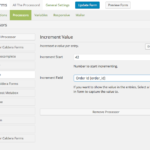 This new Caldera Forms version also refines the UI for processors slightly. There is now a "Disable Processor" button for each processor. This button allows you to totally remove a processor from the form, without losing its settings or conditional logic . One click, puts the processor back in the form.
In addition to updating Caldera Forms, we have released three add-on updates to keep those add-ons compatible with the latest Caldera Forms.
The add-ons updated are:
These three updates are available to all licensed users via our site or the auto-updater if your license is activated.