We're very excited to be able to make 2 big announcements today for Caldera Forms!
Mailchimp 2.0 is live as a complete rewrite of the Mailchimp add-on
Our support channels are now open to all Caldera Forms users
We'll share details, and also a bit about what we're currently working on, below.
Experience a better connection to your Mailchimp account than ever before.
Mailchimp has long been one of the most popular add-ons in the Caldera Forms library. It's also not been in the greatest shape for a long time. That's changed. Old bugs have been quashed and new features added.
This is a complete rebuild of the plugin from the ground up. If you're an existing Mailchimp add-on user, you'll be able to update as normal and everything should stay the same. But, you'll now have the ability to segment into Interest Category/Group as well as add Tags to new subscribers.
If you've not used the add-on before, now's the time to check it out!
Here's just some of the features in the Mailchimp 2.0 add-on:
Connect any form to any List/Audience
Map 1:1 any form field to any Mailchimp field
Segment new users into any Interest Category/Group at signup
Tag subscribers on signup
Full support for custom fields
Create opt-ins and set subscriber status
Please see the official Mailchimp 2.0 add-on page for more information!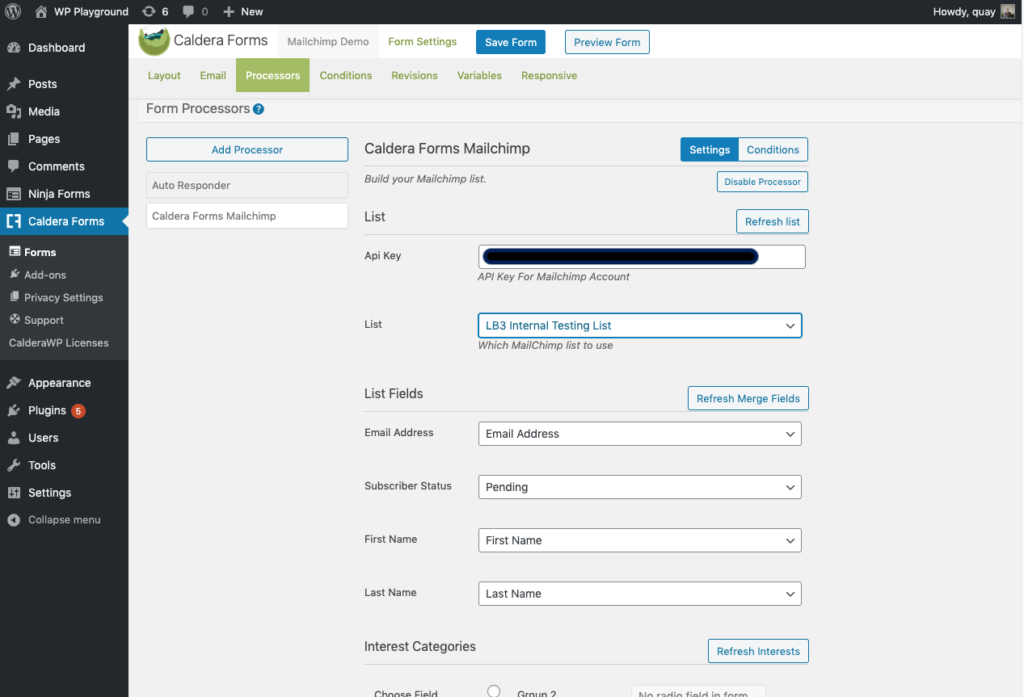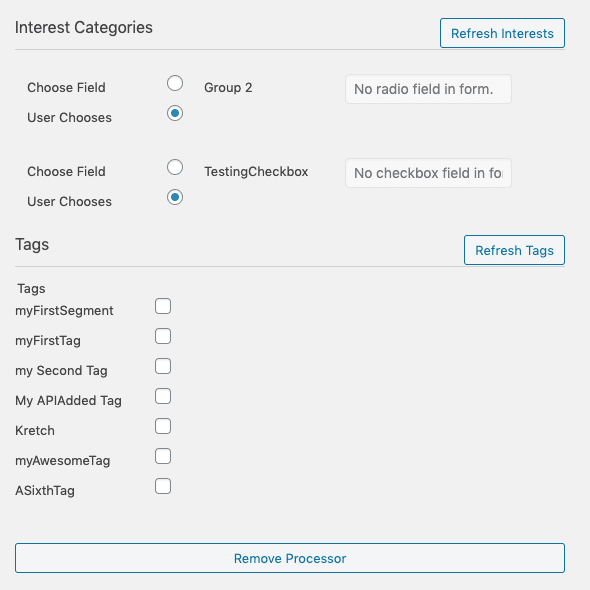 Support is now open to all Caldera Forms users!
The decision was made some time ago to limit support to paid users only due to resource restrictions on the Caldera Forms team. It's been a painful experience to offer software and not support it for all involved, users and developers alike.
Since the Saturday Drive acquisition, we've been working towards opening this back up again for everyone.
We've recently made a new support hire who is absolutely rocking her training. We've been getting all team members up to speed with the ins and outs of Caldera Forms. We've migrated the support queue from our old solution to Zoho Desk. Now we're opening the gates.
Our support goals for Caldera Forms are the same as our goals for Ninja Forms. We'll be maintaining and monitoring queues for general sales questions, account issues, refunds, free users, and paid users. For both plugins, we're aiming at <48 hour response times for free and <24 hours for paid users through the business week.
It's hard to predict how this will impact our volume, so we can't promise that will be the rule right now. But it's what we're aiming for. You've been incredibly patient for a long time, and the Caldera Forming community has been terrific in helping each other out. We'd still love for that community to stay strong and remain the kind of problem solving development think tank that it's grown to become. You all rock.
Please be patient for a while longer yet while we settle into this new normal as times may run a little long initially 🙂
That said, if you have questions, please reach out to us in support!
Here's what else we have in the works.
Please give the above a read if you've not seen it already. Covid-19 is having an impact around the world that's unprecedented in this generation. We'll be offering 50% off all memberships to try and help make Caldera Forms more accessible to more people during this time that are trying to supplement or replace income with online ventures.
If you're in education or healthcare, please reach out to us directly.
PDF features coming soon!
We're currently developing a PDF add-on for Caldera Forms that we hope to have done at the end of this build cycle (approx. mid April). This will be much more than just a replacement of the rudimentary PDF functionality of the old Pro memberships.
This add-on will add a new PDF tab within each form alongside Layout / Email / Processors / etc. From that tab, you'll be able to customize (ideally) the header, body, and footer of the PDF generated from that form. PDF copies of that form's submissions will be exportable from Entries, or can be attached to an outgoing email.
Please understand that this is currently in development, and what's described above is our goal. Nothing is set in stone right now. We know a lot of you need this from the volume of requests we've gotten for it, so we're doing our best to get it out the gates with 100% of features mid-April. Body customization especially can be tricky, so it may be that we have to go back and iterate some non-critical features in as future updates, however.
Conditional Logic Improvements
Conditional Logic has had some annoying bugs and quirks for quite a while. This has been identified as one of the biggest areas for potential improvement, so we're working on it now. Much of this focuses on quality of life improvements for those of you that use logic heavy forms, and bug fixes.
What else can we work on for you?
Your feedback very literally drives our future work on Caldera Forms. We've had lots of great guidance in support and Caldera Forming over the past months. We'd love to see more people putting in requests here too!
Or, since support is now open to everyone, there too!
Comments are below! How can we make Caldera Forms better for you?