If you had to make a list of all of the most valuable assets you have available to you in terms of your marketing campaigns, landing pages would undoubtedly be right at the top.
We've all visited a landing page before. Maybe we clicked on an interesting-looking link on social media or were captivated by a particularly clever advertisement. Regardless of the intention, the result was the same: we finally visited a page that seemed custom-built with our specific interest (and the offer we were researching) in mind.
But it didn't seem that way – it was that way. Landing pages are critical because they not only help simplify decisions on behalf of consumers, but they're a perfect way for advertisers to generate new leads AND increase conversions, too.
But what a lot of people don't realize is that while landing pages on their own are an effective way to make a quality first impression, there's another technique that you can use to really seal the deal that can be summed up in one simple word:
Video.
According to one recent study, adding a relevant, embedded video to a landing page can potentially increase conversions by a massive 86%. Videos increase the average length of time that people will actually stay on your landing page, thus improving user experience, and giving your overall message more time to really sink in. Likewise, video is a great way to increase trust significantly – all of which goes a long way towards making that sale.
Essential Ingredients For High-Converting Videos
Before we jump to the types of video content you can use to boost your landing page conversions, it's important to understand what makes a good marketing video that helps you promote your products and services.
Here are the five essential ingredients for a video that converts:
1. Set Goals, And Understand Your Metrics
Before committing to creating videos for your landing pages, it's important that you set goals, and understand the metrics that you're going to track. This will not only help you come up with the best video format possible but also track your success, so you can optimize your efforts.
2. Write A Conversion-Oriented Video Script
A well-written script is essential for the of your videos. For example, to create a conversion-oriented explainer video script, you'd need to go out of your way, and understand the pain-points of your customers and potential customers, by surveying them. Then you can figure out what confuses them most about your product. This will allow you to create the perfect explainer video! (you can read more on that below)
3. Try Keeping It Simple
Visuals are one of the most important pillars of great video content. They're the difference between a boring video and a video that generates highly qualified leads. But that being said, it's very easy to go over-the-top with this and add fancy transitions, and editing tricks to keep the viewers engaged. Aim for simplicity, and eliminate any unnecessary components of your videos. Effective high-converting videos are concise, and your audience should be able to understand what you're offering in the first ten seconds.
4. Have A Strong Call To Action
Any experienced salesperson can tell you that you need to "ask for the sale." This is also true for video marketing. Make sure that at the end of your videos, you have a clear next step for your target audience. Ask them to sign up for a trial, or make a purchase.
6 Types Of Conversion-Boosting Videos You Can Create
Now that you have a clear idea of what makes a high-converting video, we can dive into the six key types of video content you should absolutely leverage on your next landing page:
Video Testimonials
By far, video testimonials are one of the best types of collateral to include on your landing pages because they help illustrate the end result of the offer someone is currently researching. It's one thing for you to say what someone will get out of your product or service – it's another thing to show what you've already given an existing, satisfied customer.
Likewise, customer testimonials are considered to be the single most effective content marketing tactic there is, just edging out long-form content like case studies. Thanks largely to the emotional response that they help create, they're also seen to have an approximately 89% effectiveness rating, too. Here's a recent example of a customer video testimonial from Uscreen, a leading all-in-one video monetization platform:
Generally speaking, customer testimonials should be under five minutes in length and you should never be afraid to use more than one. One at the top of the page and one at the bottom, after the customer has had a chance to absorb more information about your offer, will work wonders.
Demonstration Videos
Demonstration videos are another great addition to your landing pages because they show your potential customer just how easy your product or service is to use. Again – if you have the opportunity to show someone something rather than tell them, it's always going to create a more effective and longer-lasting response.
Demonstration videos are proven to be incredibly effective with customers in studies – out of all the various video content types you could use, only explainer videos and the aforementioned customer testimonials come in higher. These videos should be shorter in length – under five minutes – and should provide a high-level overview of your product and/or service. Focus on quickly showing how to get the most out of a purchase and let the demo video transition your customer into the rest of the page. In Salesforce's demo video, they chime in on the capabilities of their CPQ & Billing tool:
Explainer Videos
Speaking of explainer videos, these are very similar in nature to demonstration videos but with a slightly different angle. Instead of showing someone how to use your product in a precise way, you're showing them a high-level overview of the value that they can expect to get from their purchase. There's a reason why explainer videos are a staple of every SaaS and over-the-top service you can think of – they're compelling, they're helpful and they make a big, big impression.
Explainer videos should usually be around three or so minutes in length because you don't want to hit your prospect with too much information too quickly. Focus on creating short, succinct content that shows not what someone will get in a literal sense from a purchase, but why it will make such a big impact on their lives.
Here's a perfect example of an explainer video from DollarShaveClub:
Animated Videos
One of the reasons why landing pages are so difficult to "get right" is because the attention span of the modern viewer is increasingly fractured. Thankfully, one of the best types of video content that you can use to combat this is an animated video that instantly stands out from all of its live-action counterparts.
Experts agree that not only does animation immediately invoke an emotion that resonates with your viewers, but it also sparks conversation. The format itself makes your audience want to follow the story you're telling and so long as that story is compelling, you'll come out all the better for it.
Animated videos work well in short bursts – so try to keep things to under a minute. You could use the format to go into detail about another aspect of your product, or even to tell a fun story about the history of your brand or the people who work there. The choice is really yours to make. Here's a great example of this type of video content from MailChimp:
Interactive Videos
By far, your number one goal when it comes to your landing pages is engagement. You don't want people to passively observe your landing page – you want them to be drawn in by it. Interactive videos are a great way to do it because as the name suggests, they're literally built to be "interacted" with.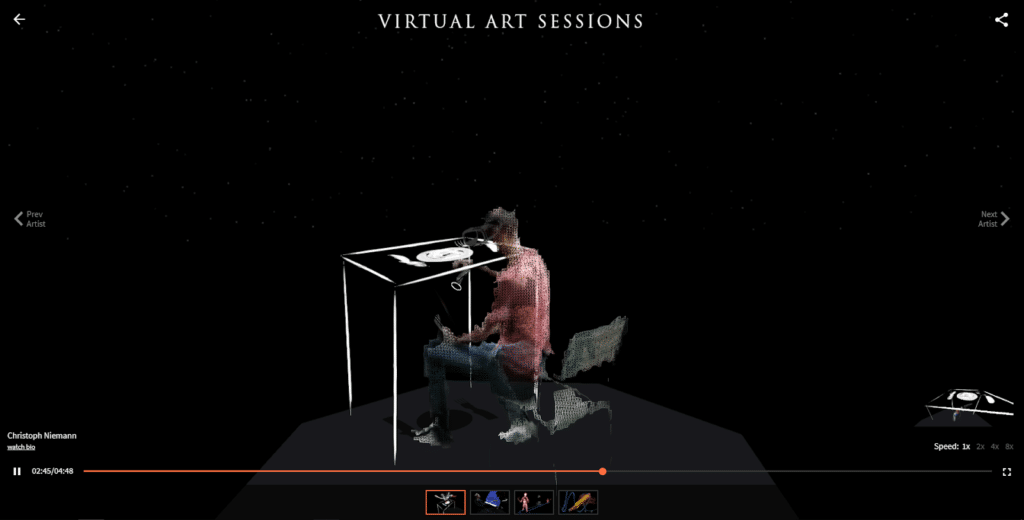 (Click here to interact with the video)
Interactive videos can be anything – from an augmented reality video that shows people what your product would look like in their home to a fun game that takes a few seconds to play. About 35% of marketers who are already using interactive video say that they not only saw increased conversions but increased sales as well. Again, try to keep these relatively short (think: a minute or two) because you don't want someone to get too distracted from the rest of the important content on the page.
Live Talks And/Or Presentations
If you want to make a good video in the modern era, capitalizing on any opportunity to create live content is how you do it. These are a great chance to go longer with your video collateral – viewers literally spend about eight times longer watching live video than pre-recorded content. People watch an average of 42.8 minutes for live video content, compared to just 5.1 minutes for on-demand.
Here's an example of this type of video in action from the team at SEMrush:
At the end, which specific type of video content you should use for your landing pages will ultimately be dictated both by your offer and by your audience. Some offers will require a more detailed approach that a presentation would be ideally suited for, just as some audiences may need to be "hooked" with something like an interactive piece of content.
Use your live video to go into great detail about a particular topic for your customers, or to answer their questions, or even to just discuss what your product is and why you wanted to make it. Live video not only helps instill a great sense of trust in your audience, but it makes your message infinitely more compelling, too.
Wrapping This Up…
Using video content on your product or service landing pages has been proven to increase engagement and generate higher conversions than any other form of content.
Regardless, provided that you're able to match the right video content format up with the right audience at the right time, you won't have to worry about properly selling your offer. That offer will more or less start to sell itself.
As you start leveraging video content on your landing pages, aim to make them your most effective marketing and converting tools. Plan them strategically. Understand your metrics, and make sure you understand what your target audience wants to see.