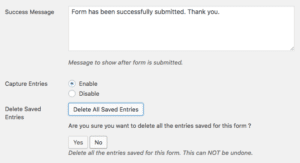 The features described in this document require Caldera Forms 1.7 or later.
If you would like to delete all saved entries of a Caldera Forms form, you can click one button to clear all of the saved entries for your form.
How To Delete Your Saved Form Submissions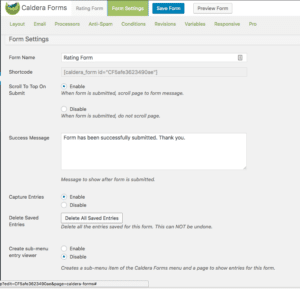 Please follow these steps to delete your saved entries for a form:
Click on the Form Settings tab
Click the Delete All Saved Entries button.
Click the yes button when asked to confirm.
Important Notes
There is no undo or revert. Once you click yes, the data is gone for ever, unless you have a backup of your WordPress database.
New submissions to your form will still be saved. To disable saving form entry data, change the Capture Entries setting to "Disable".