This getting started guide covers the processes of configuring Caldera Forms email notification settings. These settings control the notification process for each form built within your current instance of Caldera Forms. Get more information on configuring global email settings by visiting our General and Email Settings Guide.
Configuring Caldera Forms Email Notification Settings
These settings control who the form submissions send to as well as what information sends.
Step 1 : Go To The Caldera Forms Admin Page And Create Or Edit A Form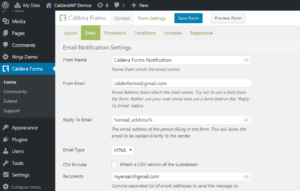 Starting from the WordPress Dashboard, you can navigate to the Caldera Forms Admin Page by hovering over the Caldera Forms icon and in the drop-down menu clicking on Forms. Create a new form by clicking on New Form in the top Caldera Forms menu bar. Edit an existing form by hovering over 1 form from the list of built forms and clicking on Edit. You are now in the Caldera Forms Layout Builder.
Step 2 : Go To The Email Notification Settings Tab
You can navigate to the Email Notification tab by clicking on Email in the Caldera Forms sub-menu bar.
Step 3 : Configure The Settings And Save The Form
You can fill in the notification settings here.
Once you enter your settings, click on Save Form.