Recently CalderaWP co-hosted the WordPress Pittsburgh Meetup at Pittsburgh Code & Supply, which is where our offices are. The event was a pre-WordCamp meet and greet. We had a nice mix of experienced WordPress users like me and Christie, and folks trying to figure out their first WordPress site.
Several people we spoke with were looking to sell a product, service or membership through their WordPress website and didn't know if they should choose WooCommerce or a different eCommerce plugin. WooCommerce is a very popular and flexible choice for WordPress eCommerce, but there are many great WooCommerce alternatives that may be better suited for certain eCommerce niches.
How To Choose A WordPress eCommerce Solution
There are a lot of choices for WordPress eCommerce plugins. Which one you should choose really depends on your needs. I want to go through a few options based on the conversations. Some plugins are great for some types of businesses and totally wrong for others.
Should You Use WooCommerce For WordPress eCommerce?
WooCommerce is a free plugin on WordPress.org, with a ton of add-ons and extensions. WooCommerce isn't just the biggest WordPress eCommerce plugin, it's the most popular eCommerce platform by market share. WooCommerce has a huge ecosystem of developers, and add-ons and educational resources. If you're brand new to WooCommerce, WP101 has a great introductory course.
If you're selling products, especially physical products, WooCommerce may be the right choice. If your products have lots of variations — for example a shirt that comes in 7 sizes and each size has different color options — WooCommerce can handle that.
Are You Selling Digital Downloads?
WooCommerce is great, but all of the folks we talked to were selling digital goods or services. You can use WooCommerce to sell downloadable products, for example eBooks, mp3s, videos or PDFs. The plugin Easy Digital Downloads, which is also free on WordPress.org specializes in selling digital downloads. Easy Digital Downloads gives you product listings, customer management and a shopping cart like WooCommerce.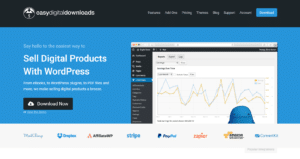 The big difference with Easy Digital Downloads compared to WooCommerce is that your products are called downloads and what you are selling is one or more files. Easy Digital Downloads protects the files on your WordPress site.
If you're selling digital products on a WordPress site, I strongly recommend Easy Digital Downloads. It's what we use, thanks to the software licensing add-on, to sell Caldera Forms add-ons.
Are You Selling Services?
WooCommerce and Easy Digital Downloads provide product listings, a shopping cart, and a checkout form. Sometimes – for example, if you're selling coaching or personal training – having a cart and product listing result in too many steps. Every step a prospective customer has to do on your site, the less likely they will take all of the steps and become an actual customer.
Why not have one form with a few options? When I was doing freelance WordPress development and wanted to accept credit cards for invoice payments, I didn't want clients to have to use a cart. I just made a simple form with a payment processor to accept credit cards for my services.
Obviously, I used Caldera Forms for that form. We are far from the only forms builder plugin for WordPress. Caldera Forms is mobile-friendly, accessible, and has all of the add-ons you need to accept payments via credit card or PayPal.
eCommerce Sites Need A Quality WordPress-Managed Host
When I go to WordPress Meetups and WordCamps I always make time to talk to folks building their first sites. Too often I hear that they have gone with a super cheap hosting provider. At first, this may not seem like a big deal, but page load time has a huge impact on eCommerce conversion rate. Choosing the right host is essential to the success of your site.
A brand new site should load pretty quickly, but what happens when you grow? All those sales, all those customers, they get stored in your database. The more your business grows, the slower your site will be, unless you have a scalable host.
Our recommended hosting provider is SiteGround. Their lower tier plans are very affordable, and you can upgrade to a more powerful plan later. SiteGround also provides free SSL certificate, which you should have on any WordPress site, but you definitely need one for eCommerce.
Let Your Ideal Customers Guide You
I hope this article helped you get a sense of what types of WordPress eCommerce plugins you would choose. I don't have a single answer for everyone. My advice is based on what you need, so think about the customers that you want to serve.
Do you know who your customers are and what they are and what they need? Do you know what you want to sell? With those questions answered, you can start to build an eCommerce site.
Want to learn more about how to answer those questions and chose an eCommerce solution based on the answers? I'll leave you with Christie's WordCamp Miami 2018 talk: