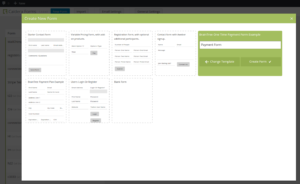 Team Caldera has been staying busy. After a very industrious weekend participating in WordCamp NYC and WPCampus, we have some cool new updates to share with you today — including a look at what's new in Caldera Forms.
Today we have two new ways for you to accept recurring payments using Caldera Forms, and sneak preview of Caldera Forms 1.4, which is packed full of fun new features. Our BrainTree payment processor now supports payment plans. Our Authorize.net payment processor supports payment plans and eChecks.

Caldera Forms 1.4 is almost done and the final version will be released within 2 weeks. We released the first beta today and we encourage you to test and provide feedback. New features include:
Duplicating fields
Improved new form modal
Improved form editor
Cleaner, more responsive entry editor
Improved advanced file fields
Preset select options
Custom class support for hidden fields
Bug fixes 🙂
We will be working to add documentation and finishing touches on these new features over the next week or two. If you find any bugs, please report them on Github.
The 1.4 beta is now available through a variety of means, including WordPress.org, but is not yet the default when installing through WordPress. We recommend that you use the plugin WP Rollback by our friends at WordImpress to "roll forward" to the beta version.
Make sure to test on a staging site or a local WordPress testing site!