This week we have made some changes to simplify how Caldera Forms is sold and I'd like to share that with you. I'd also like to share an important update about Caldera Forms Pro.
What Has Changed And Why?
The short version is that bundles and Caldera Forms Pro are now sold together and we've updated Caldera Forms Pro to enable us to provide better support. We made these changes so we would be able to offer one simple price table, provide more value to our customers — exiting and future customers — and reduce the amount of replies needed to solve a support ticket.
Bundles Are Now A Part Of Caldera Forms Pro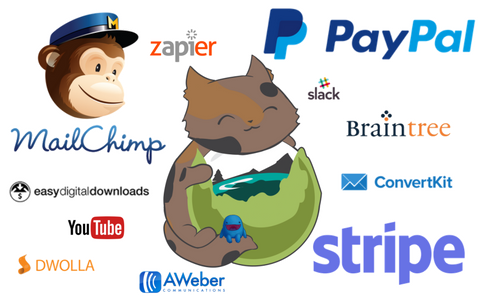 Caldera Forms Pro is a service for enhancing the deliverability of emails and improving our support. It also includes a email layout builder, open and click tracjing for emails and form to PDF. When you pay yearly for Caldera Forms Pro, you get add-ons as well.
What used to be our developer bundle, is now included in the Caldera Forms Pro Basic plan which includes up to 500 messages a month delivered via Caldera Forms Pro.
What used to be our agency bundle, is now included in the Caldera Forms Pro Awesome plan which includes up to 1000 messages a month delivered via Caldera Forms Pro.
What used to be our Enterprise bundle, is now included in the Caldera Forms Pro Apex plan which includes up to 5000 messages a month delivered via Caldera Forms Pro and all of our add-ons, including Easy Pods and Easy Queries
That's a way better value then our old bundles!
What's Changed In Caldera Forms Pro
First, all plans now include enhanced delivery and add-ons for integrating with 3rd-party services.
Second, Caldera Forms Pro now logs as many errors on your site as possible and other helpful information. This will help us work faster in support and fix bugs faster.
Comparing Our Old Process To Our New Process
Our old process had a discovery phase.When you're doing a web development project, a long discovery phase pays off. When you ask for support, that's not something you want to wait through. In the past, we've tried very hard to get users to provide JavaScript console errors and do WordPress debug logging.
Our new process, that we can only provide for Caldera Forms Pro users with the client plugin active is this:
Tell us what you did, what you expected to happen, and what time it happened.
We check the logs we've gathered from your site and present you with solutions.
If you have a plugin conflict or a JavaScript error we will give you ways to avoid those or reach out to the developer of the other plugin/theme to resolve the issue. If you've uncovered a bug in our code, we will fix it.
Much simpler. Right?
Frequently Asked Questions
What If I Already Own A Bundle?
You know have Caldera Forms Pro as well. Contact us to get upgraded for free.
Why Do You Have To Pay For Support?
Support is our biggest expense of time and money and we take it very seriously. We're doubling down on it right now. But for a small team with limited resources, we literally can't afford to give our most expensive service away for free.
Do You Have To Connect Your Site To The Caldera Forms Pro App?
No, you do not. If you do not wish to use the Caldera Forms Pro app, don't activate the client plugin.
What Has Changed In The Free Version?
Nothing has changed, if you want to use Caldera Forms the free plugin on WordPress.org without an add-on or Caldera Forms Pro, please continue. We sell add-ons and services in order to pay for the development (including the free plugin) and support.
Technically, things keep changing in the free plugin as we continue to improve it and add new features, thanks to our paying customers who make this possible. I'm looking forward to improving conditional logic editor and the auto-responder for version 1.5.5.
A Different Kind Of Support Process
Email deliverability is the number one frustration with WordPress contact forms and the most important part. Caldera Forms Pro solves that. We want all of our customers to have that.
We're also very proud of our support process. So many of our 5-star reviews mention our support. When we asked in our Facebook group (you did join right?) why so people like Caldera Forms so many people said support. Support is something I'm constantly striving to improve for our users and for our team. If what we've been doing is great, then what we're doing now for Caldera Forms Pro is super awesome.
Featured image by Mandy Beerley via Unsplash