Through out 2017, I've been watching the development of Gutenberg, the new WordPress post editor that will be included in WordPress 5.0. While I was initially concerned about this change, my concerns are being satisfied or are being worked on. After coming home from WordCamp US super excited about Gutenberg.
If you know me, you know that when I learn something new, I have to build something and teach other how to do it. In Caldera Forms 1.5.8, we added a Caldera Forms block. That way Caldera Forms will continue to work great with WordPress 5.0 and beyond, as well as WordPress 4.9 or below.
Today, we're happy to announce a new, free plugin that we developed along with our friends at Easily Amused: Share Block.
Beyond Social Sharing – The Future Of WordPress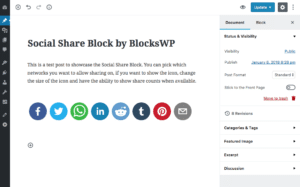 This new plugin provides a simple way to add social share links to your posts. It does not add a ton of extra tracking scripts to your page, uses loading SVGs, and is built using React. The plugin is available in the WordPress repository.
There are 8 supported networks, including email. More networks and other fun new features will be added soon.
Learning Gutenberg, and training others is a 2018 goal for Caldera Labs. BlocksWP is one new way we're sharing what we've learned so far — by releasing plugins that demonstrate the capabilities of Gutenberg that we can also use as example material.
Team members from Caldera Labs, Easily Amused and other community members are also working on a new educational site to help WordPress developers extend Gutenberg. Look for more news about that very soon.
Get The Plugin Today
Share block is free to download. It requires Gutenberg. If you have not tried the new WordPress post editor, here is an opportunity to see what it can do and what using a Gutenberg-friendly plugin is like.